Great Lighthouses of Ireland - A Nation Surrounded
Great Lighthouses of Ireland - Feats of Engineering
Great Lighthouses of Ireland - Witnesses to History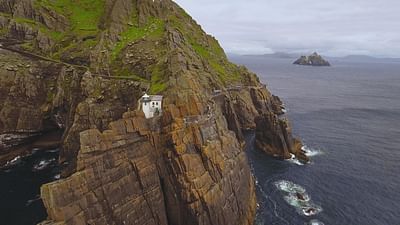 Great Lighthouses of Ireland - A Bright Future
Great Lighthouses of Ireland - A Bright Future
In the last episode of the series, former lighthouse keeper Richard Foran makes a poignant return trip to the Skelligs lighthouse which was his final posting before the lighthouse was automated.
Having worked for Irish Lights for fifty-two years in total, Richard reflects on his time at the Skelligs.  Automation was truly the end of an era for lighthouse keepers – keepers were no longer required and centuries of tradition ended.
But automation did not mean the end for lighthouses completely. We visit Irish Lights HQ in Dun Laoghaire from where all the aids to navigation around the Irish coast are controlled. Many of Ireland's historic lighthouses are now popular tourist attractions, while still providing the vital service for which they were designed. The Hook Lighthouse in Co Wexford attracts 250,000 visitors a year, and it's possible to stay at Fanad Head and Galley Head, both working lighthouses.
Artist Roger O'Reilly creates stunning contemporary art work of Ireland's lighthouses in his Kilkenny studio. Roger describes the childhood experiences at lighthouses in Drogheda that sparked his fascination and this acclaimed body of work.
From its inception, Irish Lights has been at the forefront of modern technology – from advances in lighthouse lighting systems, to sophisticated super-buoys that tweet information to mariners. Irish Lights also has its own ship, the Granuaile, designed to carry out maintenance work in the most dangerous parts of the sea.
The series ends by asking what the future holds for lighthouses in an age of electronic and GPS navigation: fortunately, the future is bright.
The most viewed videos on ARTE