Great Lighthouses of Ireland - A Nation Surrounded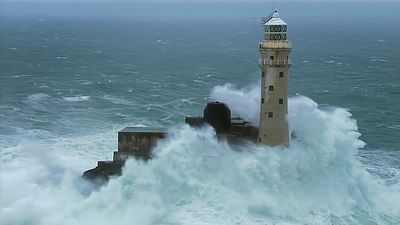 Great Lighthouses of Ireland - Feats of Engineering
Great Lighthouses of Ireland - Witnesses to History
Great Lighthouses of Ireland - A Bright Future
Great Lighthouses of Ireland - Feats of Engineering
In the second episode, we discover how Ireland became a world leader in lighthouse engineering. Often working in hostile and treacherous natural locations, Ireland's lighthouse engineers and builders used great ingenuity to achieve what seemed impossible.
Tuskar Rock off the coast of Co. Wexford is a perilous reef thought to have caused more shipwrecks than any other marine hazard around the Irish coast. Designed by 19th century engineer George Halpin, who was considered the "Founding father" of the Irish lighthouse service, the lighthouse at Tuskar is still in operation 200 years after it was built.
In 1881 the towering waves of the Atlantic snapped the Calf Rock lighthouse tower off its cast iron base. Amazingly, none of the lighthouse keepers were killed but the disaster prompted engineers to build a lighthouse on the nearby Bull Rock instead.
With a summit 305 feet above sea level, and sheer, jagged sides, the Bull Rock is perhaps one of the most inaccessible places in Ireland.
Former Fastnet lighthouse keepers recount their experiences of living and working inside the tower, which despite being 160 ft high can be covered by terrifying waves. The tower is made from 2074 hand carved granite blocks, designed with millimetre precision to lock together and withstand some of the most violent seas the Atlantic can conjure.
The Kish lighthouse is a masterpiece of 20th century engineering: a telescopic design rising to over 100 feet, and built to sit on a sandbank.
The most viewed videos on ARTE